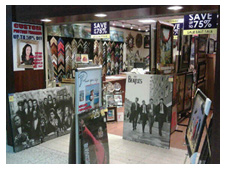 We are TORONTOS Premiere Art n' Custom picture frame Retailers Since 1966.
Over 3.5 Million Satisfied, We Provide the lowest prices anywhere & up to 75% off retail! We Carry & Have Access to 1000's Of Beautiful Unique Premium Pop Culture Canvas Wall Art, Mirrors & More! We Frame Anything & Everything, From Posters to Jerseys To Mirrors & So Much More! What Sets Us Apart is our Superior Quality Workmanship, Superb Genuine one on one Expert Customer Service, Exquisite Unmatched Selection, & Real Fair Below Market Prices! We stand behind our work 100%! We Pay Attention to Every Detail Unlike Most Gallerys! We Will Never Be Undersold! We Do All Kinds Of Unusual Framing & If We Can't Frame It RIGHT Than No Other Picture Framer Can! No Job Is Too Big Or
Too Small For Us! Try Us Today, You'll Be Sorry You Didn't!!
The Galleria Art n' Frame is A Div. Of Toronto Famous Kens & In Business
Since 1966 with Millions Of Satisfied Consumers! We Firmly Believe We Are One Of North Americas Leading Custom Picture Frame Brick & Mortars. When it comes to Art & Picture Framing Our Exquisite Reputation, Genuine Compassionate One On One Personal Service, Top Expertise & Experience Is Simply 2nd To None!

There are average Joe art and frame retailers, and then there's us! Once you discover us you will know exactly what we mean!
Our Art n' Frame Matchups are rarely matched by anyone & our Top Quality
workmanship, frame selection, & Prices simply Can't Be Beat!! We Provide
Real Discounts Everyday! We Pay Attention to Every Detail Always! No Job Is
Ever Too Big Or Too Small. Most Importantly We Never Rush! We Always Have A Solution To Your Framing Project. Allow us to be at your service like no
other, & we mean it! We Can Nearly Frame Anything & Everything! A Memorabilia Jersey? A Portrait? A Canvas Painting? An Oriental Rug?
Needlepoint or Crosstitch? Whatever it may be if we can't frame it RIGHT we
GUARANTEE No Other Picture Frame Can!
The Galleria Art n' Frame is Committed To Making Us Your Preferred Picture
Framer & Want You To Discover Our True Competitive Advantage! We've
completed Framing Projects For Valued Consumers To The Largest of
Corporations which you may not be able to imagine. With Our State Of The Art
Technology, & Experience We are able to create some of the most unique
designs anywhere!
Are you having a hard time envisioning how to frame that special memento?
Don't worry, we can give you lots of ideas. With our selection of frames and
mats, the options are limitless. At Galleria Art n' Frame, we specialize in
working with you to design a unique work of art that matches the style of
your home or office. Our wide selection of frames and mats also allows us
the ability to design within any budget. All of our custom framing is backed
by our Absolute Satisfaction Guarantee, which takes the worry out of the
custom framing process.
We Also Carry & Have Access to Fine Art Prints, pop culture posters, Canvas
Art, Paintings & So Much More!